Race Report- 2015 Florida Beach Halfathon & 5K
This was simply part of a hectic weekend!  60 mile charity bike ride and beer dash on Saturday and then this 5K on Sunday.  Not to mention my parents also stopped by to spend Sunday night, coming from Orlando.
The original thought for this 5K was to take it easy, I knew I wouldn't be at 100% to go all out granted my activities on Saturday and I definitely wasn't feeling 100%.  The morning started out interesting.  The 5K was scheduled to start at 7:22a and I left my house at 6:15.  It generally takes about 20/25 minutes for me to get to Ft. DeSoto, especially at 6ish am on a Saturday morning.  Everything was going normal until I hit the 2nd toll booth to get into Ft. DeSoto and that's where traffic was bumper-to-bumper!!  I did see one fire truck fly by on the opposite side of the road, so I figured maybe there was an accident close by and hopefully traffic would pick up soon.  But, that was not the case- it was bumper-to-bumper all the way until the North Beach.  Pretty much I was just parking at 7:30a!!  8 minutes past the scheduled start time for the race!  So, in my mind I was already late and I figure at that point I was definitely going to have an extremely chill race.  I was also looking out for the half marathoners, since they should have started at 7:05a.  As I jog to the check-in table I realize that not even the half marathon has started yet!!  Whoa!  This race was running really behind!!  I was able to pick up my packet and jog back to my car (3/4 mile away) to throw the packet pickup crap in my car, jog back to the start line and still waited at least another 20 mins before the 5K started.
I was able to link up with Sydney at the start line and we hung out and chatted as we waited for the party to start.  We were also able to see Chris (Sydney's man) come through the first 5K split of the half.  I felt really good at the start line- maybe it was all the pre-race jogging to get my packet, but either way I was perfectly warmed up.  So, naturally I figured to give this race a go and see what I could throw down.  I honestly did not like the race route at all.  The very beginning and end of the race wasn't bad at all, but there came a point where we caught up to the half marathoners who were in the back of the pack.  And the second half of the race had some weird turns running through a parking lot and finished on a curving sidewalk/trail.  The last 400 meters or so was at least a straight away with a wider u-turn.  I went 6:58, 7:16, & 7:30 min/mile on the 3 miles and the last 10/100th of a mile I dropped what I had left in the tank and I turned out a solid 5:47 pace to hammer through the finish line.  Generally I run negative splits, but I felt as if I could have sustained the 7:00 min/mile- maybe the tired legs just couldn't do so.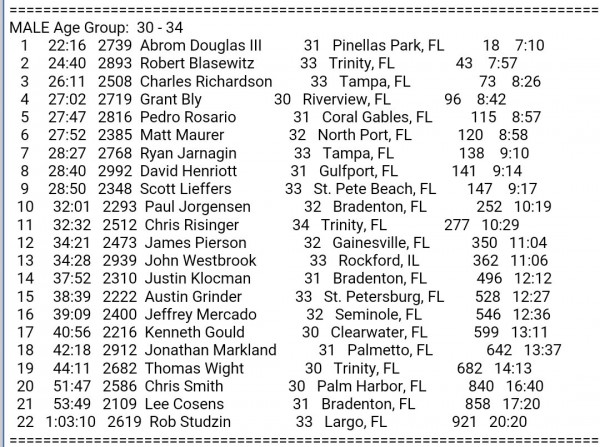 I was extremely happy with my results!  I finished in 22:16, which is a new PR by about a minute!  I was also massively surprised that I won my age group!  There was nearly 1,000 people who ran this race and I won the 30-34 age male group.  Don't get me wrong, I'm extremely happy and proud of this, but at the same time the field of runners was pretty swallow if a 22 minute time is what won this age group.  The most exciting part of this race was watching Chris take 3rd overall in the half marathon finishing in 1:14:12!  That's just incredible!  This is a 5:40 min/mile pace for the entire 13.1 miles!
Photos were also provided for free as long as they keep the logo for the event.  I always have the look of pain when crossing the finish line!  haha  The finisher medals were really cool for this race also, they had a stained glass/plastic look to it that made the medal really unique.  And the 1st place age group medal was cool too.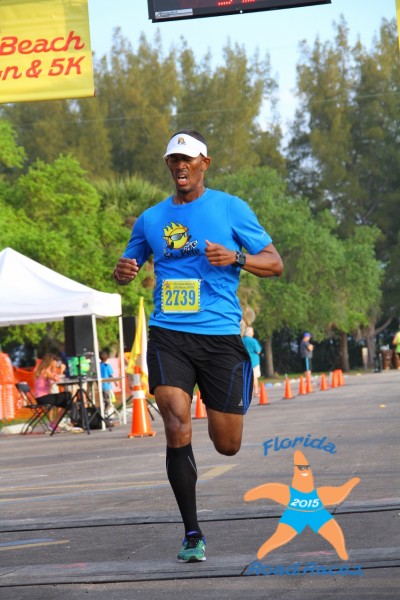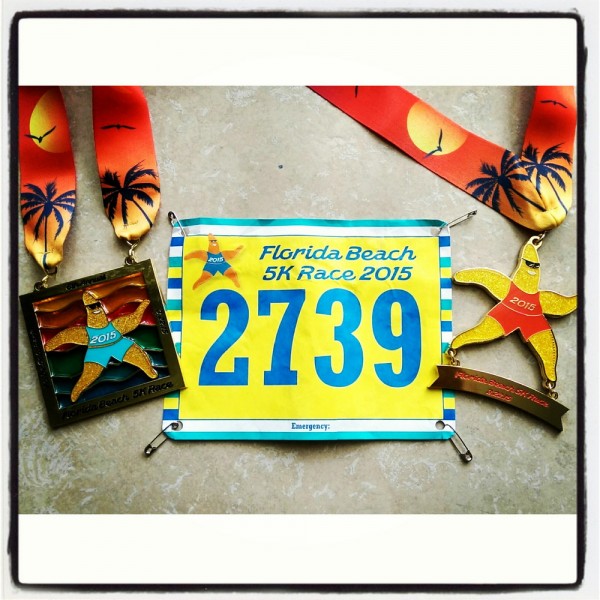 This upcoming off season I think I'll train solely to kill a 5K and really find out what I'm made of!