Race Report- 2015 Best Damn Race Half Marathon
Another weekend, another race!  Oh and another PR!  I blitz registered for this race nearly a year ago for $30 and I would of gladly paid full price for it.  Best Damn Race is a well put on race in Safety Harbor and this was only the 3rd year of having it.  Kudos to you BDR!  An amazing race series has been put together in very little time.
The morning started with my typical Hammer bar, 2 shots of espresso, and some Hammer Perpetuem.  I arrived and parked around 10 minutes before the start of the race- perfect timing in my opinion!  I hate the standing around part before races, especially road races.  The parking and traffic situation will always trump this and force you to arrive so much earlier than you need to.  Good thing I was familiar with the area, so I knew exactly where to park without any issues.  I used those 10 mins to do a little dynamic stretching and get a small warm-up run to the start line.
In my head I wanted to go all out for this race, but I'm still not really properly trained for this distance.  No doubt, I'm able to easily finish this distance, but I have never trained specifically for a half marathon, or better yet fully stuck to a proper training plan.  With that being said I started the race with the 3:00 pace group.  The start line and first couple miles was very congested, so running at the slower pace in the beginning really couldn't be avoided; unless I got to the start line much sooner!  LOL  I ran with the 3 hour pace group for 2 miles, then ran ahead.  Then I ran with the 2:50 group for a mile or two, then the 2:40, 2:30, 2:20, etc.  I continued this approach until I hit the 2:00 pace group and hung with them for maybe 4 miles.  After that point I wanted to catch the 1:50 pace group; I figured if I could catch them I would definitely have a sub 1:50 half since I started much further behind them.  Long story short, I couldn't fully catch them- they finished at least 30 seconds or so ahead of me.  However, I nearly ran negative splits the entire 13 miles and because of that I was still able to finish in under 1:50:00, just under!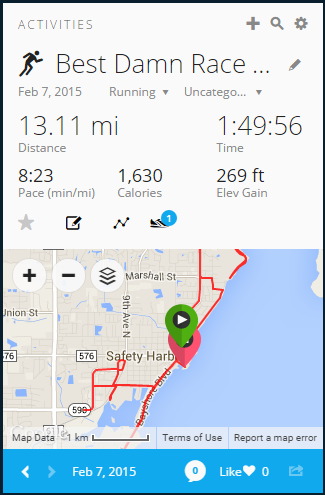 My official chip time was actually 1:49:54.  Mile 1 was of course my slowest, but I don't like to count that holistically looking at the entire race.  Mile 7 was my slowest from the data collected and I'm positive this was due to me eating a Hüma gel (which if you haven't tried- you're missing out).  Other than that fact, it's interesting to see the correlation of elevation and pace.  Granted this is Florida and elevation gain/loss anywhere in this state is a joke compared to others.  But, mile 8 was a slower mile (8:28) and also had the greatest amount of gain- 56 feet.  And mile 9 was my fastest (7:53) with a loss of 46 feet.  What goes up must come down!  I have yet to look into all of the additional data collected during a run- cadence, vertical oscillation, & ground contact time.  One of these days I'll look to try and get a better picture of how I'm improving over with a good collection of this data.
My next half marathon is 5 weeks away at the Sarasota Half Marathon.  I think I will attempt to start and maintain an 8 min/mile for that race, giving me around a 1:45 finish time.  I really won't have too much time to focus on speed work for this distance with all of the other training going on, but I think I could throw down this pace.
Oh, and the medal was pretty decent for this race!  A massive spinning medal!