Race Report- 2015 Gasparilla Distance Classic
Gasparilla!!  The road races of course, not the shit show of people getting stupid drunk and collecting beads!  Although the later can be fun if you're with the right group of people!  Anyway, this year I ran the Cactus Lime Challenge; the shortest distance challenge.  This consisted of the 15K on Saturday and the 8K on Sunday.  I actually only wanted to run the 15K this year, but my sister came down from Atlanta to run this challenge and my good friend Rachael was also running it.  So, I ended up caving and just signing up for it as well.  Also, my company provided a $25 credit towards whatever race/challenge.  My biggest reservation of the smaller challenge is the 8K.  I think this race is horrible, only because of the timing and probably more of a personal mental thing than anything else.  And this year the 8K lived up that- the race was hot and mad crowded!  Crazy how the 15K on Saturday was in the 40's and required me to wear gloves and the very next day the temps hit in the 80's for the 8K!  Florida "winters" for you!
The game plan for the weekend was to go all out for the 15K and take is easy for the 8K.  I actually haven't ran very many 15K's so setting a new PR shouldn't not have been that difficult.  And the current standing PR (1:34:29) for a 15K was set at the 2013 Gasparilla 15K.  And I just set a PR for the 8K distance earlier this year and setting a new one probably wouldn't happen in 80 degree weather after having ran a 15K the day before.
The 15K was cold!  So, I used the first mile as a warm-up and ran mostly with the 10:30 min/mile pace group.  After the first mile I kicked it into gear and tried to run negative splits.  Ultimately, I caught the 8:30 pace group and maintained pace with them.  I figured even if I finished the race with them, I would come in with good time, since I had to catch them.  I took down a Huma Cafe Mocha gel somewhere around mile 5 just to get my sugar levels back up and overall I felt really solid.  Around mile 7/8 I broke away from the pace group and figured to finish the race on empty.  I ended up finishing in 1:18:04; shaving nearly 17 minutes off my previous PR time.  Not bad at all.  One day I'll find a fast flat 15K race with a small field and try to really kill the distance, but then again I say this for every distance and have yet to do it!  One day…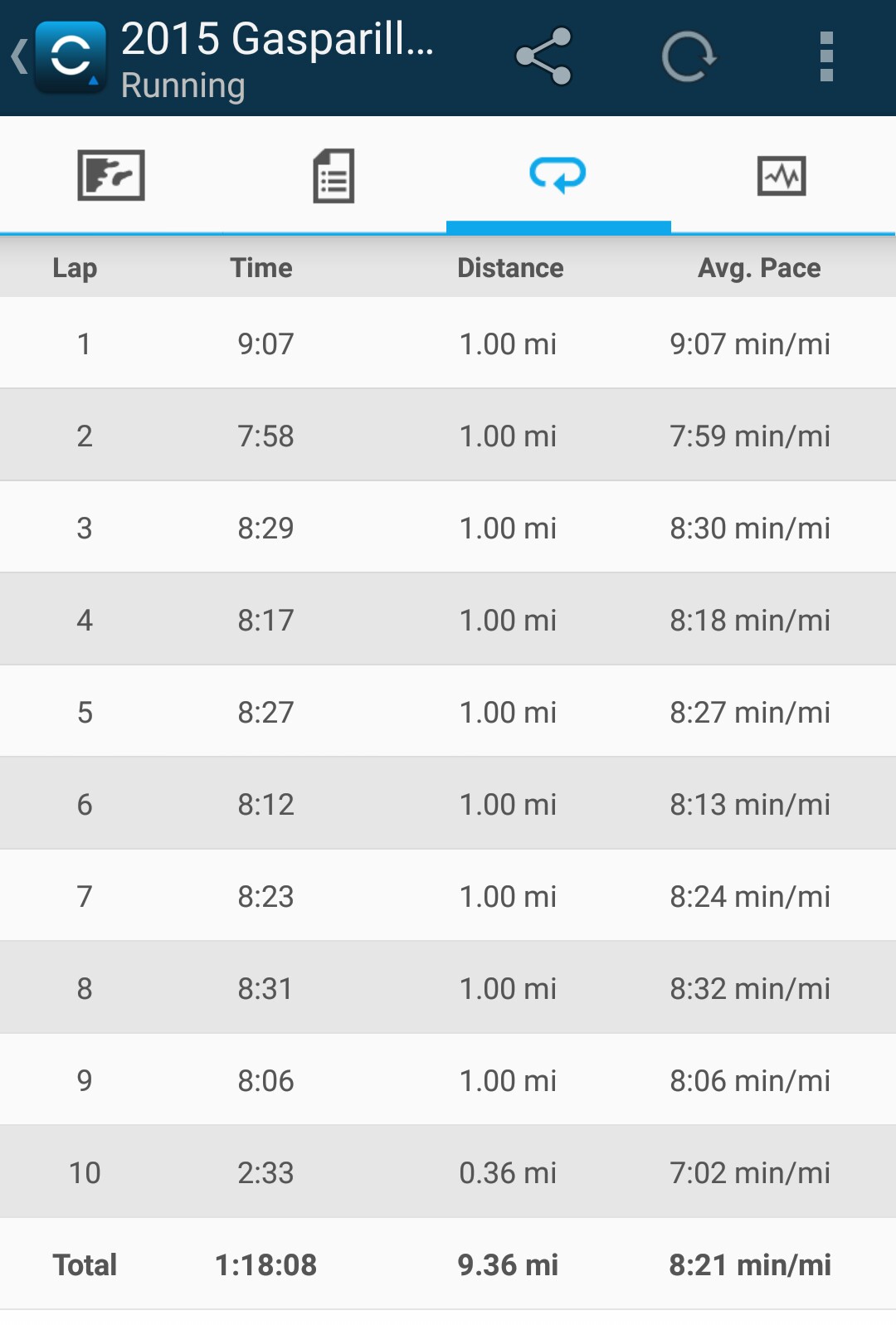 On to the 8K!  I had zero expectations for this race and the only goal was just to finish it.  My sister and I started the race near the 15 min/mile pace group; this is how far back we were for the start.  In fact we crossed the start line around 4:30 minutes behind the official start time.  My sister ran this race also with her selfie stick!  So, she was in the same boat- just have fun and finish the race. I actually felt really good and just before the first mile I decided to break away.  Again, it was hot and I really didn't feel like running in those temps for long, so fuck it, I decided to get it over with quicker.  Being so far back meant a lot of weaving around people and this made the race different and slightly annoying, but I really didn't mind since I wasn't after any specific time goal.  I ultimately ran true negative splits the entire race, which was impressive, finishing the race in 41:55.  Which was just over 3 minutes longer than my current 8K PR.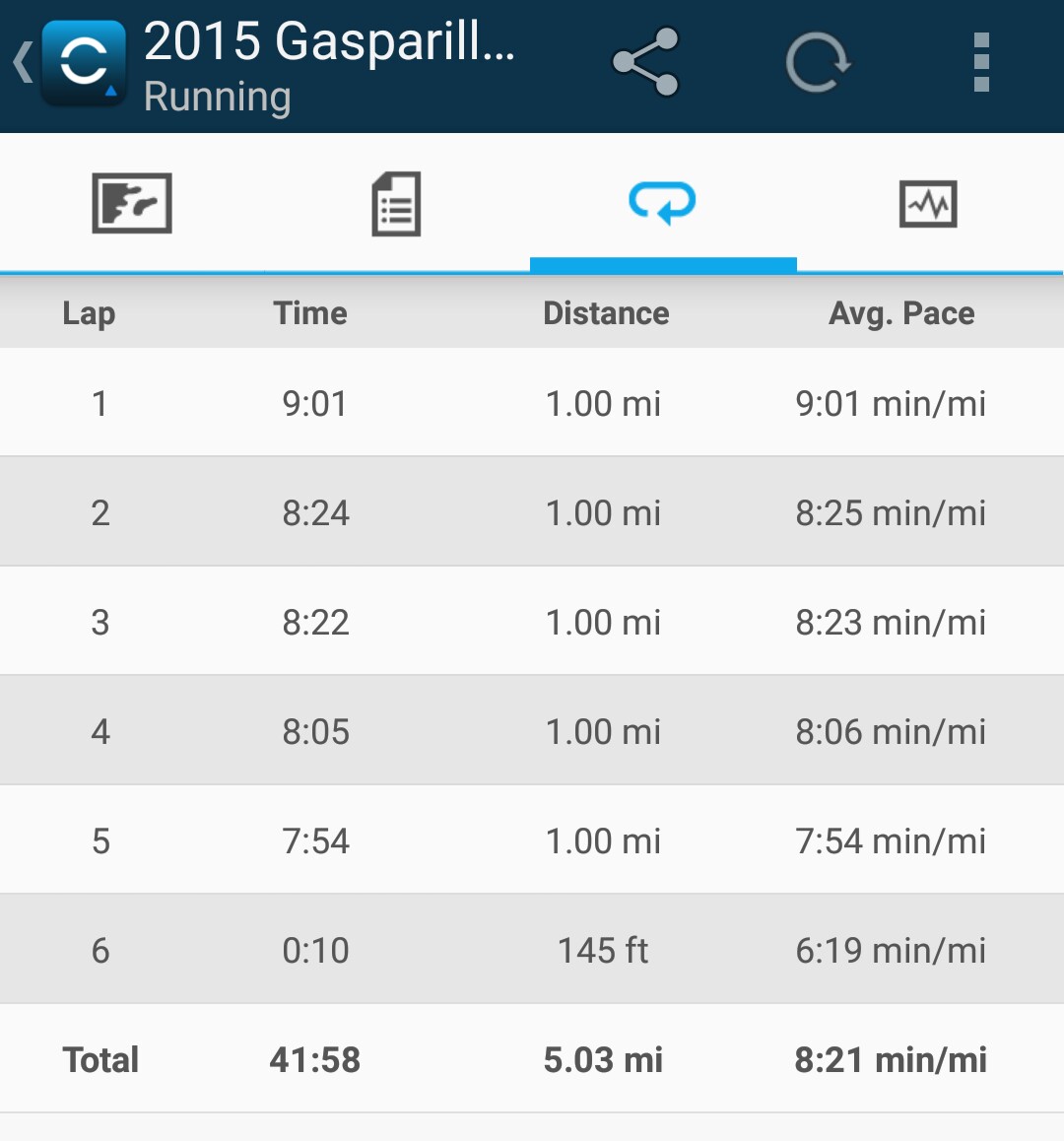 Overall it was a great weekend!  My mom and sister visited and we got to do some things around town like eat at Datz and visit the Saturday Morning Market in Downtown St. Pete.  Setting a new PR for the 15K was also a nice bonus.  I also discovered a new company at the expo- TAC (Total Athletic Comfort).  I ended up buying a total of 6 pairs of compression socks from them at the expo!!  And as a test run I wore them at both the 15K and 8K.  They definitely held up and are awesome socks!  Definitely check them out if you're looking to get either compression socks or compression sleeves.
Gasparilla is what it is.  It's a great local race event, however there's just something about it that rubs me the wrong way.  It's most probably the fact that it's in Tampa!  I really don't know what it is.   However, I've ran something in Gasparilla every year since 2007, so I plan to continue that streak.  My sister mentioned running another challenge (15K, 5K, Half Marathon) next year, but we'll see about that when the time comes around.