Race Report- 2013 Ironman 70.3 Augusta
Amazing!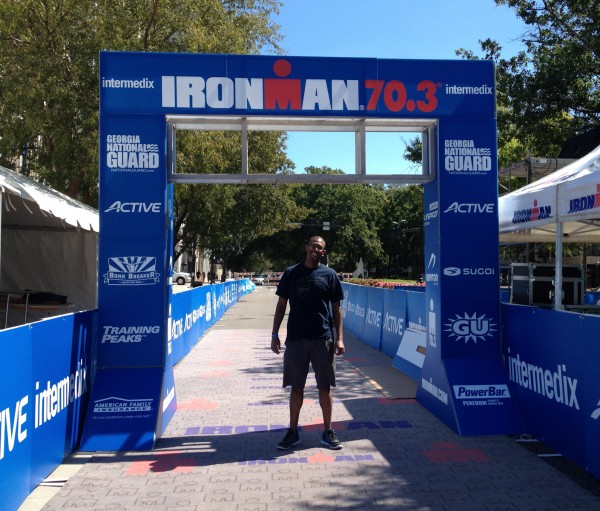 Pretty much sums up how I feel about racing in my first Ironman 70.3 race.  I've spent the past 6 months working hard and staying dedicated to my ultimate goal of competing and finishing an Ironman 70.3 race.  That goal was completed on Sunday September 29th, 2013 in Augusta, GA.  I believe I felt every emotion known to man just after crossing the finish line; pain, joy, exhaustion, excitement, agony, exhilaration- the list goes on and on.
The 6 months leading up to this race consisted of 6 practice races, over 1500 miles ridden on my bike, over 400 miles ran and a countless number of laps in the junior olympic size swimming pool at LA Fitness.  This was the first time ever in my life I actually stuck to a training plan through it's entirety and the sense of accomplishment I have is incomparable!
My goal was to finish somewhere in the time range of 6:30-7 hours.  I finished in 07:31:45.
Here's my entire race breakdown: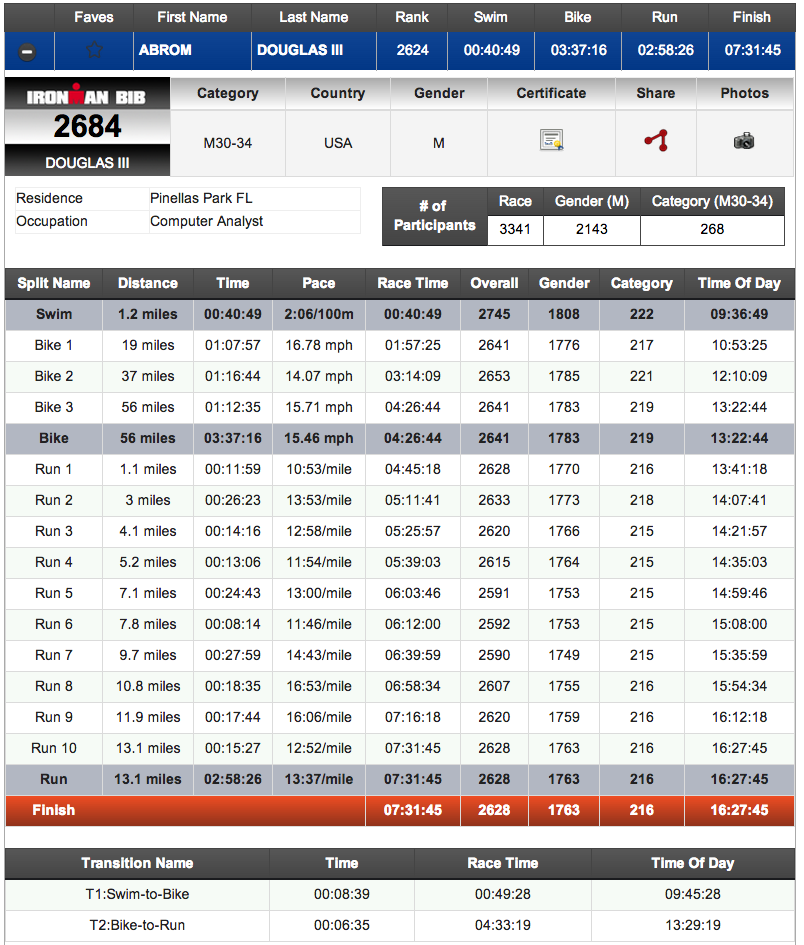 Interestingly, my swim was dead on for what I was aiming for.  I was on the bike for 7 minutes longer than what I wanted to be and spent about 24 minutes longer than I wanted on the run.  And each transition was about 1:30 or so longer than I wanted.
Pre Race 
I left the St. Pete area Friday morning and ultimately arrived in Augusta around 5:45p.  The original plan was to check in at the Hampton Inn first and then make my way over to athlete check-in.  We were slightly behind schedule so we decided to go straight to the athlete check-in.  This also allowed me to pick up an embroidered gear backpack for the race in the Ironman store.  I thought about buying this backpack ever since I started training for this race!  The swag for the race was a bit disappointing.  The best thing was a draw string backpack that was Ironman 70.3 branded.  Otherwise, I got a sample of deodorant, same foot fungus ointment, and a bunch of typical flyers advertising for other races; in fact the packet pick-up was extremely disappointing.  After getting my athlete wristband it was time to head to the hotel and have a much needed relaxing night after the 7+ hour drive.  We ended up finding a nearby Korean restaurant later on and had a great dinner.  Called it a night after that.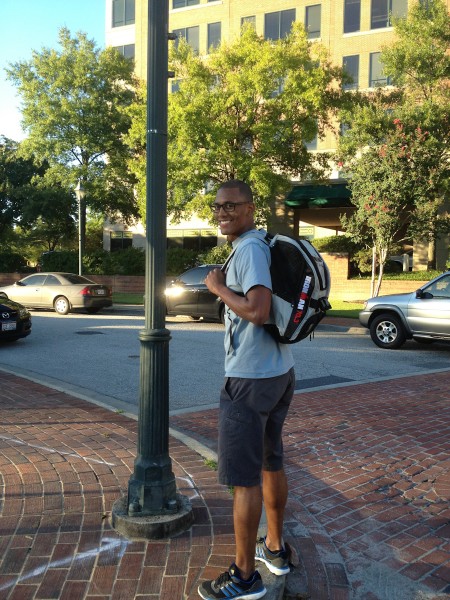 Saturday morning started with a full breakfast from the hotel.  My mom's long time childhood friend happens to live in Augusta so we met up with him after breakfast before heading over to transition to get my bike checked-in.  After getting my bike situated we headed back over to the host hotel where the expo was going on.  Like the packet pick-up, the expo was a little disappointing.  I've participated in smaller local 5K races that had bigger expos than this race; and this was an Ironman race!  None-the-less we walked around got a few free things and went through the Ironman store again.  I did actually see some decent deals on clothing and some other things, but I was already near $1,000 cost for this race (including race fee, travel, etc.), so I wasn't really looking to buy to anything else (besides my backpack!).  Ended up catching a late lunch at Quiznos and went for a short walk down the Riverwalk.  We ended up going to a italian place near the hotel (Giuseppe's) for dinner and ate some baked penne.; it was delicious by the way!  There were definitely lots of other athletes there as we had to wait nearly an hour just to get seated.  Relaxed the rest of the night and called it quits pretty early on.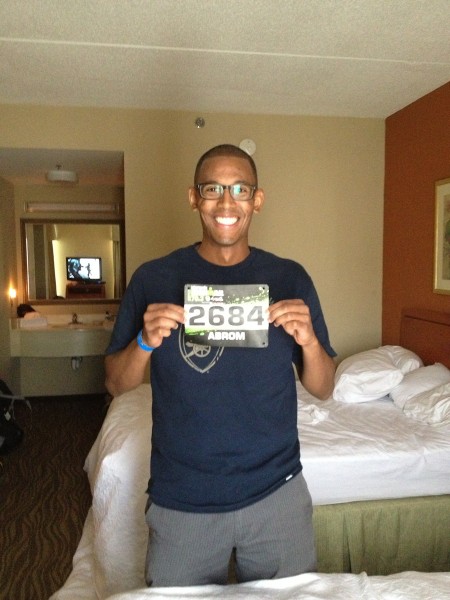 Race Day
Woke up at 4:30am, got ready, ate breakfast and was leaving the hotel by 5:40a.  I got into transition around 6:20a or so and got everything set.  It was about a 6-7 minute walk just to get to my bike from where we were able to park.  It's crazy when thinking about everything that has to be checked the morning of a tri.  Helmet- check; water on my bike- check; tires inflated properly- check; T1 stuff- check; T2 stuff- check; anything else you might need in case something goes wrong- check!  Now just have to walk back to the car.  Transition closed at 7am.
We decided to park across the street from the convention center, it was closer to the swim start and the finish line.  By this time is was 7:10a or so and my swim wave didn't start until 8:56a.  This is only bad thing about big triathlons- the wait time for your wave.  Since transition closed at 7am, there was obviously some wait time before I actually started the race.  Luckily, with the Marriott being right there we waited in the lobby of the hotel until just around 8:15a or so.  Samantha is thinking about doing this race as her first Ironman 70.3 race and I told her this would be the hotel we'd stay at when that time comes.  This way we could stay in the hotel room up until the absolute last minute.  The Marriott is only about a 1/4 mile of a walk to the swim start.
Swim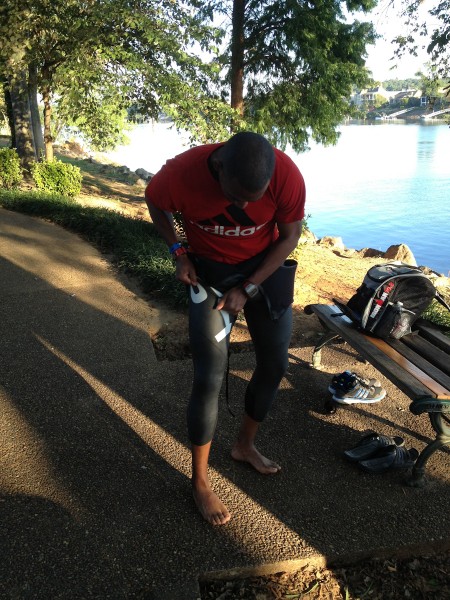 This is my weakest sport and had me the most nervous the entire time leading up to the race.  I felt I did just enough training to complete this leg of the race and I did so within the time frame I was looking for.  Augusta was the race of choice for my first Ironman 70.3 mainly because of the swim.  Generally it's cold enough for a wetsuit, it's a non-technical straight point-to-point swim, and most importantly you're swimming with the current.  For someone like me, this means an easy swim and for good swimmers means PRs.  I started the swim with a crawl for maybe about 200 yards and then into a back stroke for another 200 yards- this essentially was my warmup.  From here to the end I switched between the breast stroke and crawl until the end.  I was very conscious to pace myself as I didn't want to burn myself out so early on in the race.  After getting out of the water I felt like I could of gone a little faster, but I was extremely happy with my time.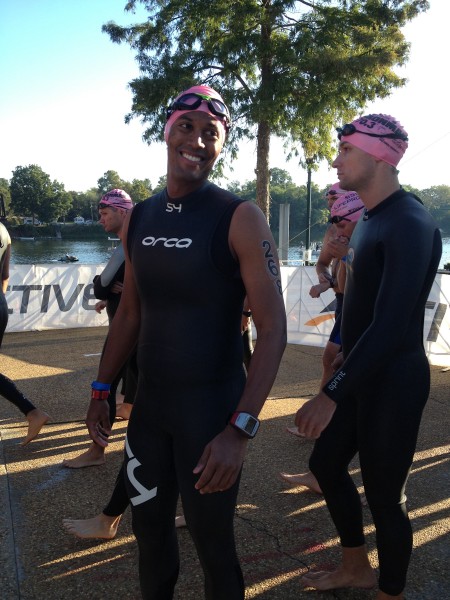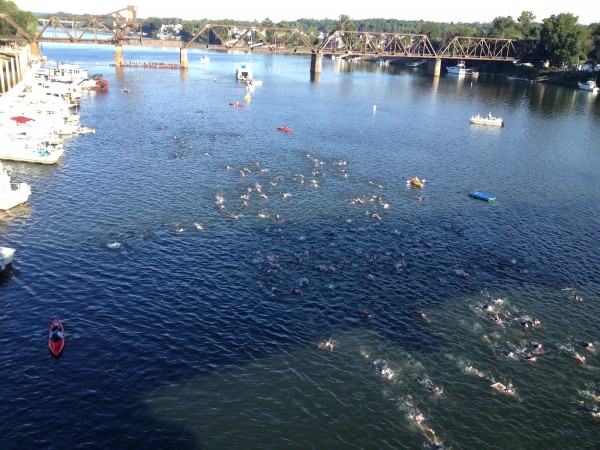 Bike
Cycling has quickly become my favorite sport and usually is the one where I'll be able to make up some time.  In a big race like this the bike is also the most critical portion of the race; on average you'll spend more time on the bike than running and swimming combined.  The bike is also a time when you'll be fueling yourself for the remainder of bike course and for the run.  I really liked this bike course!  The course maps said there was just over 1,000 feet of gain, but I believe there was way more than that.  Many in people the Ironman Augusta Facebook page also stated there was probably closer to 1,800 ft of gain.  Either way the course was well marked and at every turn there were either volunteers to direct you in the right way or police officers with the intersection closed directing you.  The roads were in relatively good shape and the 3 aid stations I felt were perfectly placed.  Around mile 40/45 is when all of the climbing started to take a toll on my legs.  At that point I kept reminding myself of one of the greatest things to remember when on the bike and that is "ride for the run".  No matter how fast you are on the bike or how much time you can make up on the bike, you must remember that you still have to run afterwards.  So totally going all out on the bike might not always be that smartest thing to do.  Ride for the run people!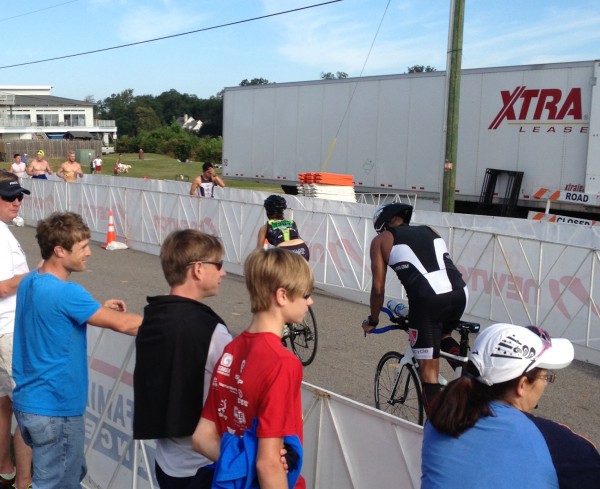 Otherwise, I had no mechanical issues while on the bike, the course was filled with interesting things to see and most importantly I had fun.  So I couldn't ask for anything different!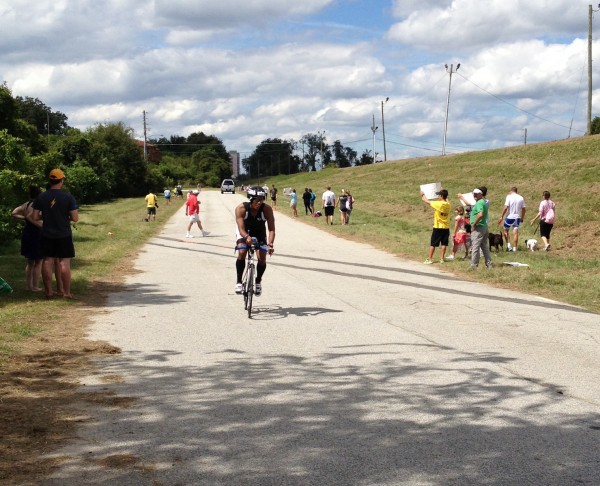 Run
Oh how important it is to get plenty of brick workouts in during training!!  I feel like the run is what makes people Ironmen; it's what separates the boys from the men; it's pretty much like getting kicked to the mouth while you're already down!  And that's exactly how I felt at least!  I was able to get a solid 3 miles in of running straight, but I was beyond exhausted.  I immediately began running intervals of walk for .05 mile & run .45 mile.  This continued on for at least another 6 miles.  At that point I scaled back even more where I was walking for .05 mile and running for .2 mile.  This was every mile on the mile.  I know I cut back on a lot of brick workouts throughout training and it was the last 3 miles I was regretting it!  The course itself is truly bittersweet!  It goes up and down the streets of downtown Augusta and then you do it all over again as you run up and down 8 times total.  This is great for spectators and even better for runners because there's plenty of total strangers cheering for you!  Then again, it is very monotonous.  The worst part is being in a younger age group, so you start so much later then everyone else.  So, when I started there were tons of people still on the course and as I approached the turnaround for lap 2 it very quickly started to thin out as far as the number of runners on the course.  At this point I was catching some of the older age groups, yet getting passed by faster athletes in younger age groups and rely racers.  The run was well stocked with aid stations that had water, Perform, bonk breakers, Coke, bananas, oranges etc, etc.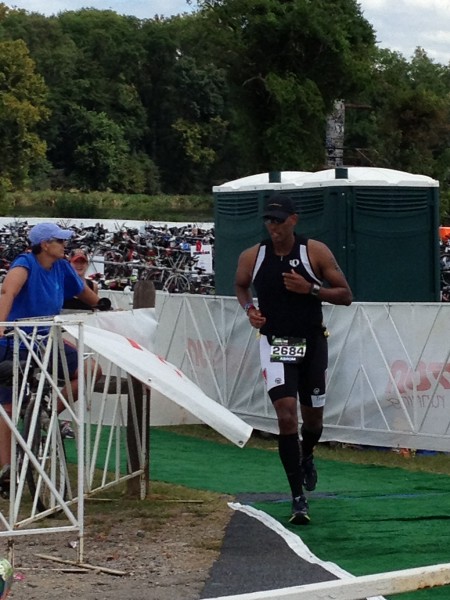 At the finish line I was filled with emotion!  However, if you saw me you wouldn't think so- I looked absolutely drained and almost emotionless!  I even got a little teary eyed when hugging my mom, sister and Samantha!  This hands down the was greatest sporting event that I've ever competed in do far and I felt extremely successful afterwards.  I initially thought to myself- I'll never compete in one of this again!  But, surely within 24 hours I was looking to see when other 70.3 races took place!  I believe this is the race that Samantha will race in (in 2015), so that'll most probably be the next 70.3 I compete in.  Until then 2014 will be filled within lots of sprints and a few olympic races and two Ironman 70.3 relays (biking both).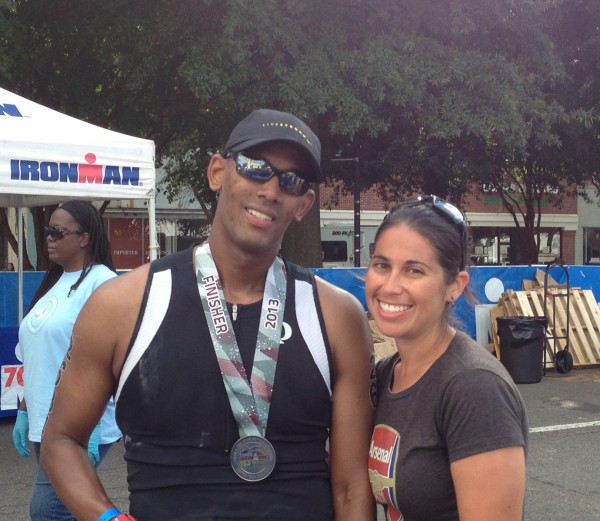 I have to specially thank my mom and Samantha- They drove up to Augusta with me and helped way more then they'll ever know, especially with the pre-race stuff and just to have their company.  And of course their support and cheering during the race.  Samantha took tons of pictures (all of the ones in this post) and was keeping the rest of the world up to date with my progress; thanks boo!  Yvonne for showing up nice and early on race day even though she had a wedding the night before; thanks sis!  It was great to see her cheer for me and hang out with her after the race.  We'll be rocking this race as a relay in 2014!  Anthony, even though I just met him, it felt like I've known him for a while.  It was great meeting him and seeing him cheer me on throughout the race and at the finish line.  Of course there were tons of people far away, yet they felt close that cheered for me and wished me luck through facebook and text messages!  Thank you all!!